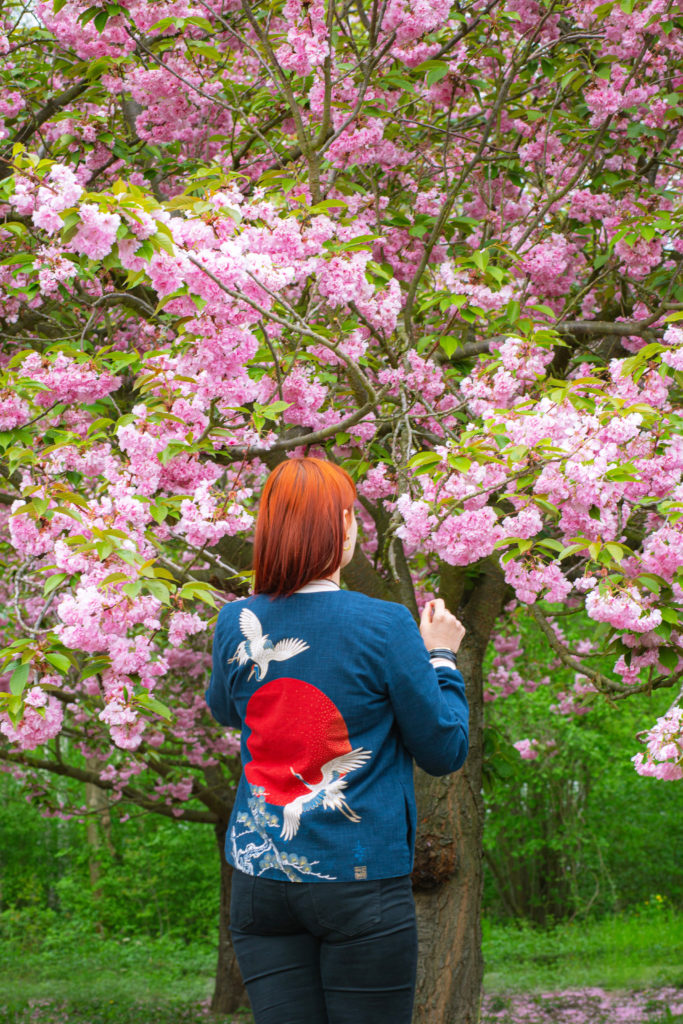 Januar 2019. Das Jahr ist frisch angebrochen, der zweite von 365 Tagen. Marianne steht in meinem Atelier. Sie probiert Ihre 'Sunbathing Cranes' Jacke an, die perfekt zu Ihren leuchtend roten Haaren passt. Stilsicher, selbstbewusst, schön. Sie ist Biologin, mit Doktortitel und Projektmanagerin.
Freut sich auf den Frühling, wenn sie sich in Ihrer neuen Lieblingsjacke zeigen kann. Sie mag Tattoos und Reenactment (Mittelalter).
Auf die Frage, wie sie auf mich und meine Jacken gekommen ist, sagt sie: "Japanisches Sommerfest." Ich musste lachen und überlegen. Kann mich nur vage erinnern. Bitte verzeih, bei all den tausenden Begegnungen. Wir sind uns also zeitgleich mit Juliane am 23.06.2018 zum ersten Mal begegnet, vor einem Jahr, der Premiere meiner Kranichjacke. 🌟
Später hab ich festgestellt, dass sie den Fotografen Merlin bereits von Mittelalter Märkten kennt. Die Welt ist klein.
January 2019. The year has just begun, the second of 365 days. Marianne is standing in my studio. She's trying on your 'Sunbathing Cranes' jacket, which goes perfectly with your bright red hair. Stylish, confident, beautiful. She's a biologist, with a PhD and project manager.
Looking forward to spring, when she can show off in your new favorite jacket. She likes tattoos and reenactment (Middle Ages).
When asked how she came up with me and my jackets, she says, "Japanese summer festival." I had to laugh and think. Can only vaguely remember. Please forgive, with all the thousands of encounters. So we met at the same time as Juliane on 23/06/2018 for the first time, a year ago, the premiere of my crane jacket. 🌟
Later I found out that she already knows the photographer Merlin from medieval markets. The world is small.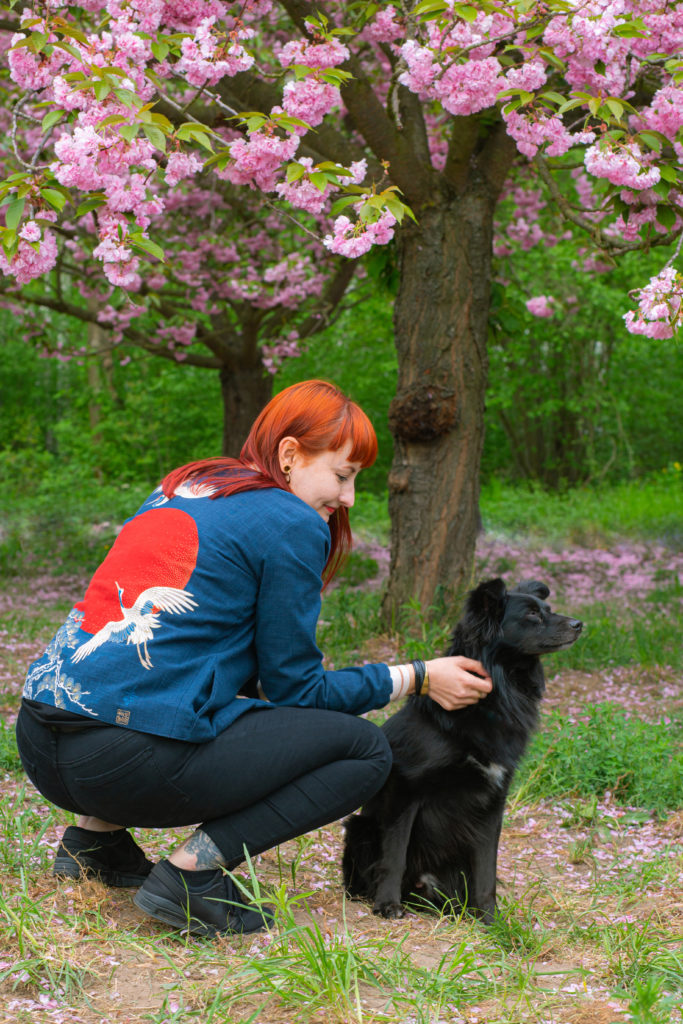 Über sie
Hobbies/Auszeit:
Ich tanze gerne, mache Yoga, gehe schwimmen, lese Fantasy und Science Fiction und mache Rollenspiel (Pen&Paper)
Lieblingszitat/-wort: "Uralter Teich. Ein Frosch springt hinein. Plop." Ist ein sehr schönes Haiku und irgendwie auch mein Lebensmotto 😁 .
Mein Lieblingsessen ist eindeutig Salzkaramell. und Erdbeeren. Und Kirschen. Und Himbeeren. Und Mochi. Und Sushi. Und… Naja, vielleicht doch nicht sooo eindeutig. Sagen wir: ich esse gerne 😁
Lieblingsreiseland:
Ich würde so wahnsinnig gerne mal nach Japan, aber irgendwie klappt es nie 😞
Einen wirklichen Lieblingsort, -café oder sowas hab ich eigentlich gar nicht 🤔 Ich bin immer dort gerne, wo meine Lieblingsmenschen sind. Dann ist eigentlich jeder Ort toll!
Wen ich verehre? Eher wen ich bewundere: Menschen, die aus eigener Kraft etwas (er)schaffen, die für eine Sache brennen, die sich für andere stark machen, aber vor allem Menschen, die dafür auch aus ihrer Komfortzone herauskommen.
🌟
About her
Hobbies/time off:
I like to dance, do yoga, go swimming, read fantasy and science fiction, and roleplay (pen&paper).
Favorite quote/word: "Ancient pond. A frog jumps in. Plop." Is a very nice haiku and somehow also my life motto 😁 .
My favorite food is definitely salted caramel. and strawberries. And cherries. And raspberries. And mochi. And sushi. And… Well, maybe not so clear after all. Let's just say: I like to eat 😁.
Favorite travel destination:
I would love to go to Japan, but somehow it never works out 😞
A real favorite place, -café or something I have actually not at all 🤔 I'm always happy where my favorite people are. Then any place is great actually!
Who do I adore? Rather who I admire: People who (achieve) something on their own, who burn for a cause, who make themselves strong for others, but above all people who also come out of their comfort zone to do so.
🌟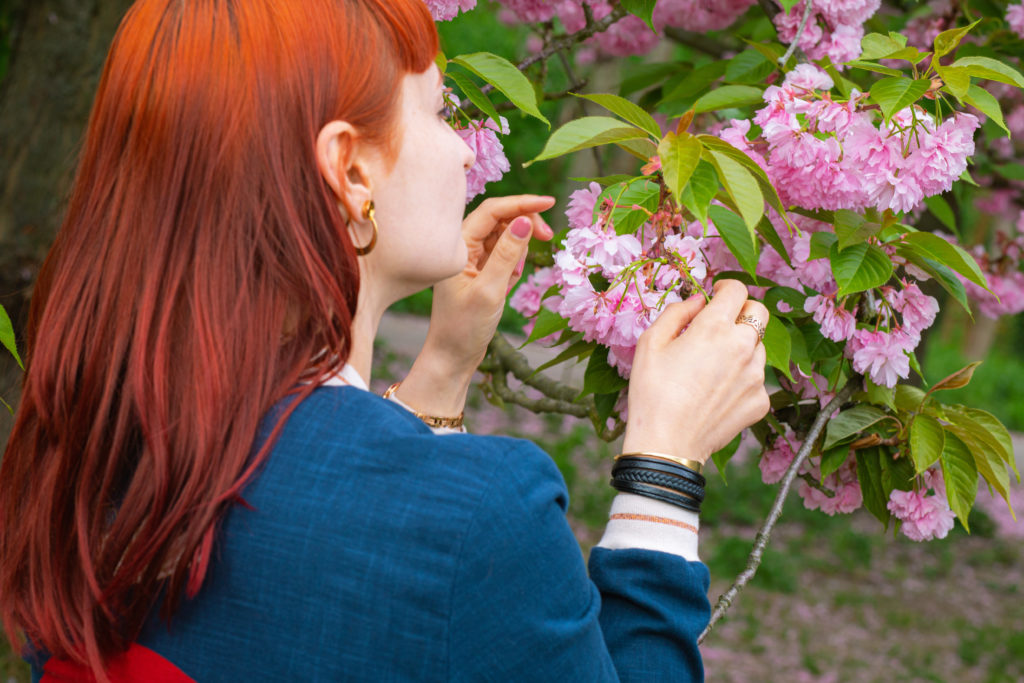 Photo credits: Merlin Noack
Make Up: Lene Sommer
Dog: Jack

Model: Dr. Marianne. She wears a jacket in S
Jacket: 'Sunbathing Cranes' by Maison Delight 168