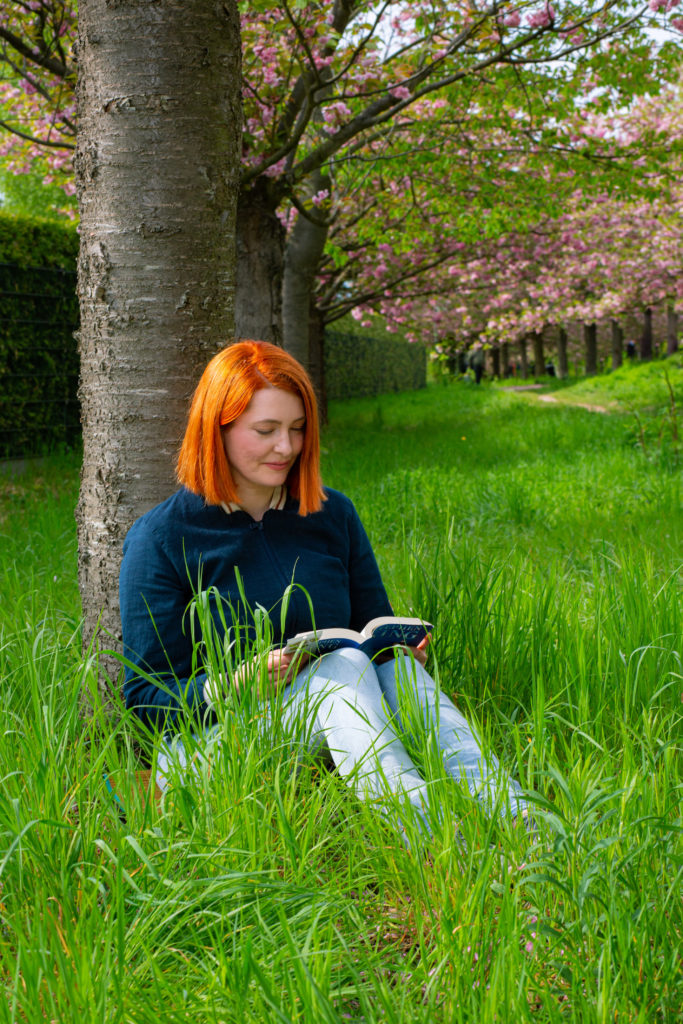 Sommer 2018. Juliane und ich sind uns zum ersten Mal am 23.06.2018 auf dem Japanischen Sommerfest in der Philipp-Melanchthon-Kirche in Berlin-Neukölln begegnet. Sie hat orange-rot gefärbte Haare, ein offenes, herzliches Wesen und trägt Ihr Herz auf den Lippen. Ich kann mich lebhaft erinnern, dass sie sich ohne Umschweife in mein siebgedrucktes Kranichmotiv verliebt hat. Sie besuchte mich später regelmäßig auf anderen Märkten und deckte sich mit Geschenken für Freunde ein. Ich kann mir keinen loyaleren warmherzigen Menschen vorstellen.

Zwischen den Märkten waren wir lecker Japanisch essen:

– macha-macha, @machamachaberlin, Hasenheide 16, 10967 Berlin-Neukölln. Top Tees und Top Essen. Lecker und ästhetisch ansprechend. macha-macha wurde leider 2019 geschlossen.

– Udagawa, Kantstraße 118, 10625 Berlin-Charlottenburg. Sehr authentisches, unaufgeregtes Essen in einfachem Ambiente.

Auf dem besagten Event habe ich meine allererste Kranichjacke vorgestellt und mittlerweile hat sich Juliane diese Jacke selbst geschenkt. Der Bank Überweisungstext lautete: Coolness mit zwei Armen.
Summer 2018. Juliane and I met for the first time on 23.06.2018 at the Japanese Summer Festival in the Philipp Melanchthon Church in Berlin-Neukölln. She has orange-red dyed hair, an open, warm personality and wears your heart on your lips. I can vividly remember that she fell in love with my screen-printed crane motif without hesitation. She later visited me regularly at other markets and stocked up on gifts for friends. I can't imagine a more loyal warm-hearted person.
In between markets, we had delicious Japanese food:
– macha-macha, @machamachaberlin, Hasenheide 16, 10967 Berlin-Neukölln. Top teas and top food. Delicious and aesthetically pleasing. macha-macha unfortunately closed in 2019.
– Udagawa, Kantstrasse 118, 10625 Berlin-Charlottenburg. Very authentic, unexciting food in a simple ambience.
At the said event I presented my very first crane jacket and in the meantime Juliane gave this jacket to herself. The bank transfer text was: Coolness with two arms.
Über sie:

Hobbies: Lesen, Bogenschießen

Lieblingswort: einander

Der beste Rat, den sie je erhalten hat:
"Das wird schon irgendwie."

Lieblingsort in Berlin: "Ich mag kleine Lokale, in denen man gemütlich essen und schnacken kann, die das meiste selbst machen und einfach diese vertraute Atmosphäre haben."

Da haben wir einiges gemeinsam 🌟
About her:
Hobbies: reading, archery
Favorite word: each other
Best advice she's ever received:
"It'll work out somehow."
Favorite place in Berlin: "I like small places where you can eat and chat comfortably, do most of it yourself and just have that familiar atmosphere."
We have a lot in common there 🌟
Photo credits: Merlin Noack
Make Up: Lene Summer
Model: Juliane. She wears an XL jacket
Jacket: 'Two Cranes' by Maison Delight 168
One year later …
… she bought the next Japan jacket. Merci!